BEST BANKS IN AMERICA™
SUPER
CONFERENCE
Where Ambitious and Elite Results-Oriented Bankers Gather to Share the Power Secrets of the New Game of Banking
SPECIAL KEYNOTE
HOW TO LEAD AT MACH 2
America's 1st Female F-14 Pilot
Carey Lohrenz
Dear Bank Builder,
I'm thrilled to invite you to the 6th Annual Best Banks in America™ Super Conference! This year we're bringing together an elite group of entrepreneurial bank CEOs, executives, and directors to tackle the current and urgent problems in banking.
You have a unique opportunity to see how your best-performing peers from across the country land large low-cost deposits, expand net interest margin (without taking on risk), and create cultures of accountability and results.
In this guide you'll find everything you need to know about this year's conference, and I have to warn you…
Don't sit on this invitation.
We've sold out each of the last 5 years, and we're almost full this year with returning execs. Book your tickets now for you, and 2-3 of your key executives. Don't be left out!
Join the Best-Run Banks in America at the 6th Annual
BEST BANKS IN AMERICA™
SUPER
CONFERENCE
Where Ambitious and Elite Result-Oriented Bankers Gather to Share the Power Secrets of the New Game of Banking
Discover the BEST BANKS IN AMERICA™ SUPER CONFERENCE
Why are bank execs and board members raving about the Best Banks in America Super Conference? (Getting the secrets to predictable profit growth is just one of the reasons!)
Every other conference gives you theories and sales pitches. But here you get the ingredient that they all miss: the step-by-step secrets of high performance.
This is the only conference where CEOs of the nation's elite results-oriented community banks share what's working right now to attract high-profit core deposits, beat net interest margin compression, get high-quality loans at premium pricing, double cross-sales, and make your next acquisition immediately profitable.
We've gathered a group of elite CEOs from top 1% banks.
Some are listed among the Top 100 banks in the country by SNL. Most are recognized as a "Best Place to Work." Others have some of the best breakthrough numbers among their peers.
These are banks that have shed the shackles of rate-matching and figured out how to get the best-quality, highest-profit clients in their markets—at premium pricing.
R.L. Harmon, Jr.
Chairman and CEO, Bank of Tennessee, 2016 Banky™ Award Winner
I've attended 24 years of high-performance networks and affiliations. They all have magic formulas and calculations to tell me how much more money I can bring to margins and profit. The missing ingredient was 'how.' We finally found an integrated system of both numbers and understanding with Roxanne Emmerich's system. We have a real program that has translated to high energy and commitment for every single employee. It works!
Community banking is undergoing radical changes: disruption caused by FinTech, mobile apps, and regulators, and massive and rapid consolidation. The only certainty is that there will be a lot fewer banks in five years than there are today.
Want proof? In 2008 there were 16,000 banks. Today, we're down to just over 5,000. By 2022, projections show that just 2,000 banks will survive. ONLY THE BEST WILL REMAIN. This conference is only for those bankers who are committed to staying in the top quartile of their peers after that level of consolidation. The few who are committed to doing whatever is required to be "among the living" in five years.
Chris Floyd
CEO and President, First National Bank of Syracuse
SNL #2 Bank Doubles Growth in One Year!
Roxanne showed us how to double our growth. We hit our loan growth goal for the year by the end of June… in our first year, with Roxanne Emmerich's help! We've had employees in banking for 20 to 30 years who say they wish they'd started this program 20 years ago.
Imagine… You, in a room, with CEOs and execs like Chris, getting the exact strategies he uses to dominate his market… Where else can you go to get this concentrated, focused, "peek behind the curtain" at how to win at the new game of banking?
We Analyzed the Consistently Highest-Performing Banks in America.. Here's What We Learned…
They don't recruit lenders from other banks… you'll want to know what they do instead.
They don't use the traditional strategic planning processes that 99% of their lower-performing competitors do… their processes are instead designed for fast growth and predictable improvement in profit.
They are not under the illusion that culture is just about people being "happy." Instead, they know how to align everybody and everything to profit and growth. They create a great culture because of how they master accountability to the right things with extreme visibility, and how they follow through. (Their competitors have no clue what they're doing.)
They don't charge higher pricing just for riskier loans—but you should see what they do with their very best loans.
While every other bank seems to be struggling to get deposits, they play a different game and are masterful at pulling away low-cost core deposits from their toughest competitors…
Many banks attending have already agreed to share their blueprints, templates and tools on how to:
Attract large, low-cost deposits without competing on rate.
Conquer net interest margin compression without resorting to high-risk loans.
Drive double-digit loan growth while closing every deal at premium pricing, exclusively with A+ quality credits.
Double or even triple cross-sales in a matter of months, while improving customer outcomes and operating with even more integrity and fiduciary care toward every customer.
Create a results-oriented culture, where everyone in the bank FINALLY understands how they contribute to profit and are accountable for delivering. You'll even discover how to flip "accountability" from something scary into the one thing that most creates excitement and happiness for your team.
Why Are Bank Execs and Board Members Raving About The Best Banks in America Super Conference?
(Profit Growth is Just One of the Reasons)
It is possible to transcend the disruption that plagues the industry. The Institute for Extraordinary Banking™ designed this conference to pull together the most revered community bank leaders…
The elite, results-oriented, ambitious, entrepreneurial bank executives and board members who are brave enough to accept the challenge of leading this industry into the next half century.
I want you to consider for a moment what's possible for you. At this point in history, there's both real danger and enormous opportunity.
Opportunity to…
Catalyze a community of raving fans who eagerly want to share your brand…
Scale faster by engaging your team in a BIGGER, BETTER VISION of the impact you can create for your community…
Attract and keep results-oriented "A-players" who can drive you to new levels of achievement…
Create a true competitive advantage (far beyond and better than "we have great customer service") that attracts the elite customers in your market… all willing to pay you much more for that advantage…
Own a sustainable system—fully installed in your bank—to launch you into the top 10% of your peers in every metric that matters to you: ROA, NIM, loan growth, deposit growth, loan quality, efficiency ratio…
What This Conference is NOT...
It is NOT about boring, dry vendor pitches. Unlike most banking conferences today, there are NO vendor pitches. Period.

We bring in highly successful bankers and handpicked, premier, expert speakers to show you how to be more effective and successful.

It is NOT just about "positive thinking" and motivation—although you will feel highly motivated when you leave. "Motivation" is a far too simplistic answer to tough problems. You need REAL ANSWERS, clarity, and solid, proven advice—and that's exactly what you will get when you attend.
It is NOT a place to "send your people." Frankly, if that's what you're thinking, don't bother. This is the place for you—the CEO, with your key leaders and board members—to find out what the country's most ambitious and entrepreneurial banks know and do differently. This is a unique opportunity to get together with your top leaders so you agree on a plan and hit the ground running when you get back.
It IS about providing you with the ONLY opportunity to see, in great depth, exactly how your peers are breaking through the deposit growth challenge to achieve phenomenal new levels of core deposits.
S. Jones
President and CEO, Home State Bank, 2016 Extraordinary Bank of the Year
Through the first quarter our core deposits are up by $7 million... 58% of our annual goal… in the first quarter!
We set our goal to grow our core deposits by $1 million a month, $12 million for the year, and through the first quarter of 2015 we are up $7 million. We believe what we are doing is making a difference!
Here's What You'll Get When You Register for the Best Banks in America™ Super Conference:
Proven, Ready-To-Use, Specific, Revenue-Boosting Strategies. No other conference or event in the banking industry delivers as many usable, tested and proven strategies, examples and tools for attracting more clients and closing more sales. When you leave, you'll have dozens of ready-to-use, actionable sales development tools you can take home and instantly apply in your bank to generate results fast.
Time Spent with Winners, Not Whiners. There is a positive energy and a willingness to share at the Super Conference that is unlike any other experience in the industry. Plus, the people who attend Super Conference are ACHIEVERS. When you attend, you'll be impressed not only with the incredible success, growth, and results these bankers are achieving, but also their generosity and willingness to share their strategies with you. If you struggle with developing A+ quality clients and you're not happy with your team's ability to get premium pricing on the highest-quality prospects, you need to be here with us, learning and soaking up the energy.
An Amazing Lineup of Speakers and Experts. Every year we bring in top-notch, world-class experts and speakers who present sales-generating plans, business strategies that increase profitability, personal development lessons to give you the kick-in-the-butt you may need, proven business-growing ideas, real-world examples of other banks' successes, and much more. Every year, our attendees say that they are over-the-top impressed with the caliber of speakers that we bring in for this event and that the takeaways from the speakers directly impact their businesses.
This Bonus Day hones in on the top challenges in our community bank world where there is a sharing of ideas and best practices.
S. Jones
President and CEO, Home State Bank
The Exclusive Profit-Rich Executive Mastermind. Executives rave about Roxanne's process to break through the roadblocks that had them stuck. Hearing other great bankers break through those limitations one after another will give you a notebook full of ideas you can implement within weeks.
A Battery-Charging Experience. Year after year, people RAVE about the life-changing experience they have when attending this conference. This is not a "rah-rah" motivational event, although you will leave feeling highly inspired. In fact, it's difficult (if not impossible) to leave this event without feeling a fresh new excitement about your bank and confidence in your ability to hit your biggest goals.
The Extraordinary Bank of the Year™ Award—the Banky™ and the Contest for The Car…
You'll get unbelievable revenue-generating ideas from the top three finalists for The Extraordinary Bank of the Year Award. Every year, the Institute holds a contest to determine the Best Banks in America. Hundreds of banks have received the Banky™ Award—a market differentiator like the Grammys and Tonys that is proven to cause prospects to switch and pay more. Each year, one bank is chosen as the Best Bank in America and receives… a new car! The Institute will also provide that bank with $10,000 to donate, in their name, to build a school in Africa through The Unstoppable Foundation.
A Tangible Return on Your Investment—GUARANTEED. Every year we make the same guarantee: at the end of the conference, if you don't feel absolutely certain that the content, speakers, and takeaways were worth FAR MORE than the time and money invested to attend, if you aren't confident that you can use what you learned to generate a massive return on your investment, we'll refund every penny you paid PLUS up to $500 in documented travel expenses. Who else makes that kind of guarantee on a conference? Nobody else—because other conferences are filled with tired and unproven ideas or are just pitch-fests. We focus the entire three days on how we can make you more successful in generating profit and giving you the Breakthrough Banking™ Predictable Success Blueprint you can start to apply and see returns from within weeks.
America's 1st Female F-14 Pilot
Carey Lohrenz
Carey Lohrenz is a dynamic communicator with an incredible story and is one of the most in-demand speakers for leadership conferences. As the first female F-14 Tomcat pilot, she is a pioneer in military aviation. Having flown missions worldwide as a combat-ready United States Navy pilot, Carey Lohrenz is used to working in fast-moving, dynamic environments where inconsistent execution can generate catastrophic results.
Carey will show you the secrets to winning under pressure, reducing errors and overcoming obstacles. Her message will help your team triumph in the ever-accelerating, high-pressure, time-crunched world of banking.
GET READY TO DISCOVER HOW TO LEAD AT MACH 2!
Create more predictable revenue streams...
Dave DeFazio is a partner at StrategyCorps who works with bank clients to design, build and implement a variety of checking, marketing and training programs. His extensive financial services experience and continuous research in the field ensures that each product and service meets the needs of today's retail bankers.
As partner, he develops consumer sites and mobile apps that deliver value to bank customers and analysis tools that allow clients to have a deeper understanding of customer relationships and product profitability. He has spoken at conferences nationwide about insight and research on innovations in financial technology and retail banking, and instructed on the tactics of today's best retailer marketers. Dave received his B.A. in Economics and Mathematics from Ohio Wesleyan University.
THE AMAZON PRIME EFFECT
SURVIVING IN THE NEW SUBSCRIPTION SOCIETY
Subscription services are quickly becoming the dominant strategy of today's best retailers and have caused a monumental shift in the way people buy. More than 50% of all American households now subscribe to Amazon Prime, and more than 200 million people in total subscribe to Prime and other retail services such as Netflix, Spotify, Dollar Shave Club, Costco and AAA. Bank marketers have a duty to understand these trends and drive their banks beyond just transactions to connect better with the lifestyles of today's modern consumers.
A Simple Differentiation Blueprint to Attract Large Business Deposits... Without Ever Matching Rates!!!
Mike will show you how you can differentiate your bank to be a deposit-attracting machine—all without paying up or even having rates be a significant part of the buying decision. He'll give you a simple plan for magnetically attracting business deposits, and the business owner's personal accounts that you can implement immediately.
By his 35th birthday, Mike Michalowicz had founded and sold two multi-million-dollar companies. Confident that he had the formula to success, he became an angel investor… and proceeded to lose his entire fortune.
He then started all over again, driven to find better ways to grow healthy, strong companies. Among other innovative strategies, Mike created the "Profit First Formula," a way for businesses to ensure profitability from their very next deposit and going forward.
Mike is now running his third million-dollar venture; is a former small business columnist for The Wall Street Journal; is the former MSNBC business make-over expert; is a popular keynote speaker on innovative entrepreneurial topics; and is the author of Profit First, Surge, The Pumpkin Plan and The Toilet Paper Entrepreneur, which Businessweek deemed "the entrepreneur's cult classic."
John J. Gorman is recognized as one of the nation's leading bank mergers and acquisitions attorneys. He has overseen or been involved in more than 75 mergers and acquisitions involving financial institutions during the past decade, and has been named one of Washington, DC's Top-Rated Lawyers in Banking and Finance.
Mr. Gorman has represented financial institutions and their holding companies for more than 30 years. His practice focuses on mergers and acquisitions, public and private offerings of securities, and general compliance with federal securities laws—particularly SEC reporting requirements and annual meeting and proxy-related issues—executive compensation and general bank regulatory matters. Mr. Gorman also counsels boards of directors and public companies on corporate governance practices, compliance with the listing standards of the national stock exchanges, and state fiduciary duty laws.
How Banks Catapult to Top 5% of Peers: The secrets of how smart banks pull ahead of competitors by playing a game they can win
Nobody has helped more banks get to top-of-peers status than Roxanne Emmerich. One CEO client referred to her as a "one-woman economic-recovery program."
She is the New York Times bestselling author of Thank God It's Monday®! and author of Profit-Growth Banking® and The Net Interest Margin Solution. She is also editor-in-chief of Extraordinary Banker® magazine, which has a readership of 15,000 board members and executives from the best banks in the country.
She is the founder and chair of the Institute for Extraordinary Banking™, and creator of the Banky™ Award.
Roxanne is CEO of The Emmerich Group®, which helps banks get to top 5% performance and stay there. Her clients, when asked every month to rate on a 1 to 10 scale how likely they are to refer The Emmerich Group to their friends, have given her and her team an unprecedented-in-any-industry 9.5+ score every month for over five years!
She has been inducted into the National Speaker Hall of Fame, singled out as the University of Wisconsin Distinguished Alumna, and received the prestigious Nido Qubein Philanthropist of the Year award for her ongoing work to build 300 schools in Africa.
"Beat the Heck Out of Your Fiercest Competitors in 2020!"
The Only Conference PROVEN to Show You How to Get to Top 5% Performance - and STAY There!
In addition to all the speakers and the Top-of-Peers Mastermind session, here's what you'll leave with:
• The Double-Your-Cross-Sales Blueprint™ Process, credited by hundreds of banks with doubling or even tripling their cross-sales on new accounts within five months, all without ever feeling like sales.
• The Three-Step Extreme Differentiator™ Template to create unique selling propositions to win more business and extreme premium pricing while virtually eliminate ALL competition for good.
• The Sales Multiplier Team Hiring™ System. Benchmark studies show that low-risk sales profiles outsell medium-risk sales profiles by 400%. If you had a predictable way to "stack the deck" with sales superstars, how would that impact your growth and profitability?
The Proprietary No-More-Order-Taking 7-Step Sales Process™ is the definitive sales engine that transforms your sales team into "heavy-hitters" who hit home runs with each and every new loan and customer account.
• The Sales Letter Template and Checklist™ helps you quadruple response rates to every letter you send.
• The Profit-Rich Customer Analysis™ process helps you identify your top 100 most profitable customers, get more of their business, and attract a ton of referrals from them.
• A One-on-One Profit Maximizer Analysis™ call with your entire executive team to learn your goals and roadblocks, coach you through your winning strategy, and show you how to implement changes within weeks. (Valued at $3,000.)
• The Profit-Growth Banking® Playbook lays out everything you need to do so you have your winning game plan in writing and can refer back to every simple step on your way to the top.
• The Executive Team Post-Event Implementation Jumpstart Call to ensure that you start implementing Day 1, so you can start experiencing measurable "wins" ASAP.
• Your Naked-Truth-Sales-Team Scorecard™. We'll "test" your sales team members' current processes and report back to you on what to change to improve their results. (Valued at $1,295.)
• The Profit-Rich Psychographic/Firmographic Analysis™ System helps you identify your next most-profitable customers.
All this is worth hundreds of thousands, if not millions of dollars in increased ROA, net profits, revenues, and assets. And it's not just something that benefits you once, but does so year after year after year.
"There's a Losing Team, and a Winning Team… Which Do YOU Want to Be On?!"
Annual loan growth has been over 8%. In the past 4 months, we closed 17 deals, growing our loans 13% without matching rates.
K. Knudsen
President and CEO, Security Bank
LOCK IN YOUR SEATS TODAY
2 EASY WAYS TO ENROLL
CLICK HERE TO RESERVE YOUR SEAT NOW
OR
Call (952)737-6700 between 8am and 5pm Central, Monday-Friday.
We Make a DOUBLE GUARANTEE
You'll Make at Least 10x Your Investment or It's FREE!
Our "You-Gotta-Be-Kidding-Me" Satisfaction and Results Guarantee
We're so convinced that this is the only "must attend" event in community banking, and that you'll get more profit-enhancing ideas, tools, blueprints, and strategies in these three days than you'll get the entire year anywhere else, that we're willing to take more than our fair share of the risk just to make it easy for you to say "maybe"...
Book your tickets and attend the entire event—all three days. At the end, if you feel it wasn't worth the investment, just hand in your conference materials and tell one of our team members, and we'll refund every penny you paid for your conference tickets. PLUS, we'll pay you up to $500 in documented travel expenses per person from your bank. Yes, you read that right—you can attend the entire event, then decide if it was worth the investment.
But we don't stop there... We also guarantee your results. If, after six months, you've implemented at least five of the strategies we're going to show you, and you haven't seen AT LEAST a 10-fold return on your registration investment, we'll refund your full paid registration.
Registration is simple and takes just a few moments… act now, before we hit capacity and are forced to leave behind those who delayed.
Two Executive Admissions* to the Best Banks in America™ Super Conference and the 2019 Extraordinary Banking Awards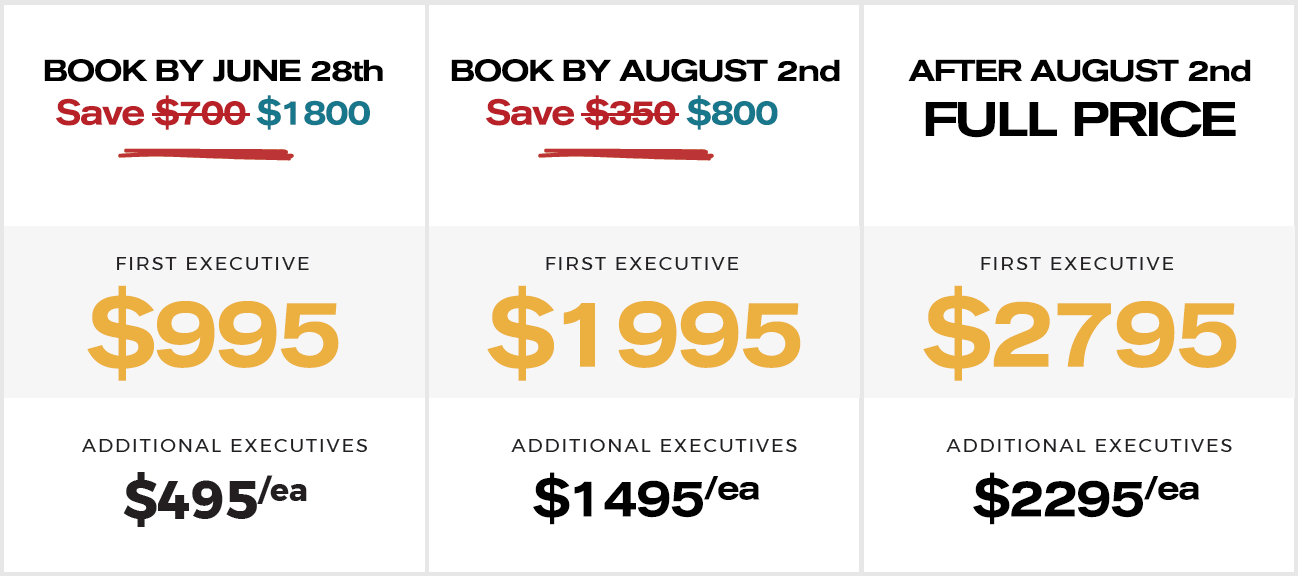 *Additional executives attend at a reduced price of $500 below the first executive rate. Take advantage of this special pricing and bring 3-5 executives or directors to accelerate your implementation after the conference. Executive Admission pricing is available for eligible bank executives and directors only.
Great program to become a better executive and even better program to become a greater being.
C. Holland
CEO, Farmers State Bank of Alto Pass
Frequently Asked Questions
I've been to a bunch of banking conferences that turn into vendor "pitch-fests". Is this another one?
Not even close.
There. Are. Absolutely. No. Pitches. Period.
Just you and a few hundred of the most elite bank executives in the country.
I don't feel like an "elite" banker, and our bank isn't a top performer yet. Will this be a good fit for me and our bank?
Nobody's born an "elite banker." And no bank starts as a top performer. If you have the sincere, burning desire to get there, no matter where you are right now, this is the place you need to be, and these are the people you need to be around. They are doing what you aspire to do. Honestly, while this is an elite group, it's also a modest group. You'll find very successful leaders who welcome the opportunity to share what they've learned, what's working, and how they can help you. Don't miss your opportunity to meet them.
We're already doing well. What can we gain by attending?
Every one of the top 100 banks in America shares two common traits: paranoia and humility. They're always a little paranoid that someone's going to come along and eat their lunch. That's what keeps them sharp. And they're humble… they know they too need to keep growing, and they're always looking to gain the next slight edge that will keep them in the driver's seat in their markets. If you're really at the top of your game, you already know this, and I suspect you'll be at the Super Conference eager to pick up that "one thing" that will transform your future possibilities.
We want to come but we're too busy. What should we do?
That's exactly the problem. Our research shows that banks with $7 to $9 million in assets per employee never say they are "too busy." They are calm and orderly, with everyone aligned with their predictable success system.
However, the opposite is true with banks with $2 to $4 million in assets per employee: almost their entire team is overwhelmed. There's a fire to put out every hour.
So it's your choice… do you want to be a firefighter or an elite banker?
So the question isn't if you can afford to spend the time. The question is: Can you afford not to?
The regulators are coming! … We're rolling out a new Core!… My kid has a soccer game! …
Yep, I get it, life happens, regulators come, new software has to get rolled out… on and on and on…
If not now, when will you make time for the transformation of your profit equation? For growth? For finally getting your bank to the level of performance you believe possible? There will always be [fill in the blank] that's "in the way," and "has us tied up."
The choice you have is simple. Allow those things to rob you of this opportunity to get the ideas and strategies to have a much brighter tomorrow, or say: "I'm going for growth. The regulators, the core upgrade, the whatever, will be there when I get back."
It's just three days.
I can't go, but I'd like to send my people. Can I do that?
Honestly, we strongly recommend that you don't. Unless your top people are ready to commit to transformation—to becoming an even better elite community bank—you should stay home. While you need your people to attend, they need you—the CEO, the leader—with them to help them place everything they gain here into the context of your vision.
Change your schedule. Get here. You won't regret it.
What if the conference doesn't meet out expectations?
Simple. You get your money back.
Two Executive Admissions* to the Best Banks in America™ Super Conference and the 2018 Extraordinary Banking Awards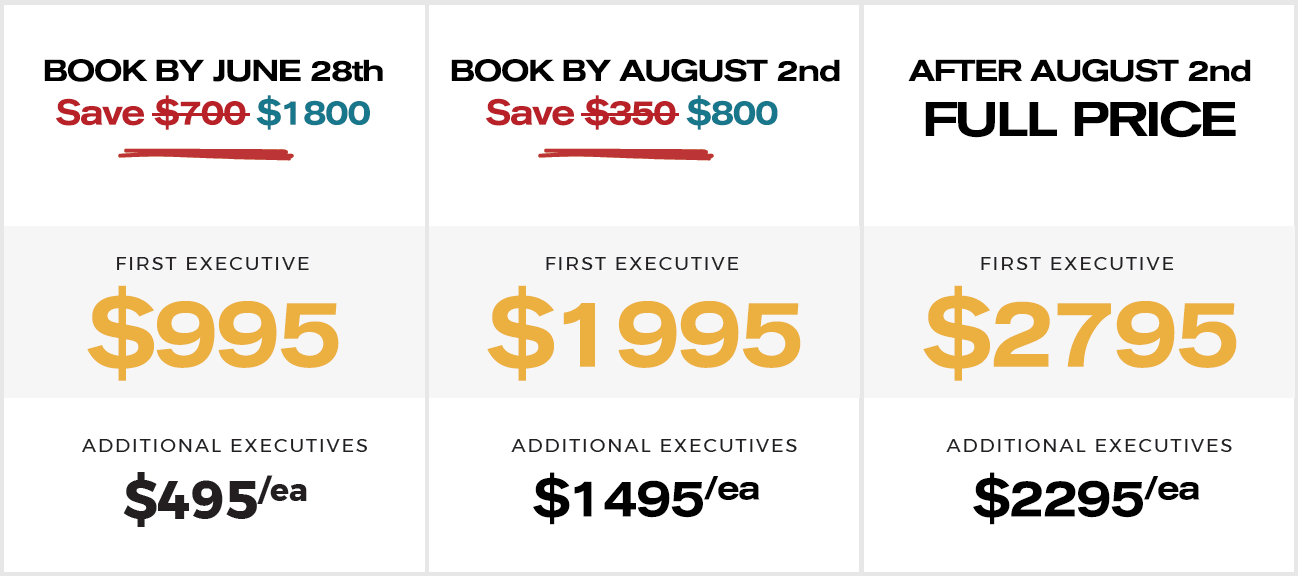 *Additional executives attend at a reduced price of $500 below the first executive rate. Take advantage of this special pricing and bring 3-5 executives or directors to accelerate your implementation after the conference. Executive Admission pricing is available for eligible bank executives and directors only.
Great program to become a better executive and even better program to become a greater being.
C. Holland
CEO, Farmers State Bank of Alto Pass